STILLA
- a versatile holder for various beverages, accommodating everything from wine glasses to bottles.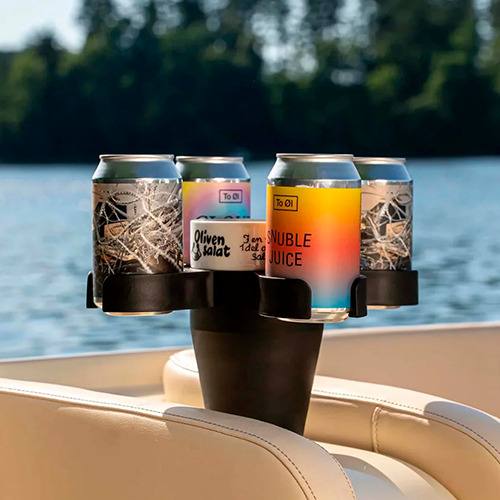 It's the perfect solution for boats, as it increases the number of possible spots for glasses without needing to drill new holes. STILLA also provides storage for bottles and easily fits even on smaller vessels. With it, John and his friends can relax without fearing they'll spill their drinks or run out of space to place them.
Advantages of STILLA:
No more spills: The special design of STILLA ensures that your drink stays in its place, even if another boat passes by and causes waves.
Versatility: STILLA is perfect for different types of beverages, whether it's wine, cans, or bottles.
More spots for glasses: STILLA enhances the number of spots for beverages on the boat, preserving its original appearance without additional holes.
Bottle fixation: STILLA comes with a special bottle holder that securely holds them in place.
Practicality and compactness: STILLA is convenient to carry around, easy to store, and is perfect for any water trips.
Fast deliveries of yacht equipment, calculation, selection of analogues and spare parts. Send us your request and we will contact you ASAP with a solution. We deliver in Cyprus, throughout Europe and worldwide. More than 10 years of experience.
Email us: info@yacht-supply24.com or fill our Feedback form.
You can also fill out the "Ask a question" form on the right or at the bottom of the page.
---
1-2 weeks delivery time
Price incl. 19% VAT

This versatile Stilla bottle and cup holder offers a flexible solution for both small and large boats. Designed to fit in a standard Ø70mm stainless steel cup holder or on a 60mm (2.36") table pole, it's adaptable for various setups. The internal diameter of the cup holder is 66.5mm, while the bottle holder measures at 94mm in diameter. Accommodating various cups, glasses, and cans, it also features a central space for a standard champagne bottle or snacks. Four individual holders can be stored inside the main bottle holder. Made from 60% recycled fishing nets, the STILLA is an eco-friendly choice for environmentally-conscious boaters.
1-2 weeks delivery time
Price incl. 19% VAT

The Stilla ground spike enables you to utilize the bottle and cup holder outdoors, whether in a garden or on the beach. By placing the adapter beneath the holder, it ensures stability in the ground or sand, preventing any tipping.
1-2 weeks delivery time
Price incl. 19% VAT

The Stilla adapter allows you to attach the bottle and cup holder to a 40mm tube, a Stilla spike, or directly to flat surfaces like tables using a stainless-steel screw.